Adam Wiedemann
Born: December 24th 1967 in Krotoszyn. A poet, an author, a literary and music critic, a translator from the Ukrainian (Andrij Bondar "Jogging", Nowa Ruda 2005), Slovenian (Primož Čučnik "Zapach herbaty", Kraków 2002; Peter Semolič "Wiersze wybrane", Legnica 2003; Miklavž Komelj "Rosa", Legnica 2003, and other) and English(works of Harry Mathews and Gertruda Stein in "Literatura na Świecie" magazine), a painter and a draughtsman (solo expositions in Warsaw, Legnica, Gdansk and Cracow, participation in the international group exhibitions in Cracow and Wroclaw; illustrations to books by Tomasz Majeran and Vivienne Plumb). From 1998 to 2001 editor of an art and literature magazine "Studium". His works were translated to Bulgarian, Croatian, Czech, Dutch, English, French, German, Norwegian, Serbian, Slovakian, Slovenian and Spanish, published in magazines and anthologies. His articles on literature were published (among other) in "Pamiętnik Literacki", "Teksty Drugie" and collections of essays, including "Stulecie Młodej Polski", "Góry - Literatura - Kultura" and "Lekcja żywego języka. O poezji Andrzeja Sosnowskiego". Awards: Polish Society of the Book Publishers (1998) Kościelski Foundation (1999) Gdynia (2008). Nominated to the "Polityka" weekly magazine prize "Passport", to the "Silesius" Prize (2008), "Cogito" Prize (2008) and (three times) to the NIKE Literary Prize (in 1998, 1999 and 2005). Scholarships: Hermann-Kesten-Stipendium (Nurnberg 2000) Künstlerdorf Schöppingen (2000) International Writing Program (Iowa City 2004) Ministry of Culture (2002, 2004, 2010).
Wrzaski
Sam zamysł ciasta powstał dopiero w fazie pieca. Zmieszano
ciebie ze mną, a nas z nimi, powstał gnój. Gnój mówi
za nas, gnój się wczuwa, jego srogi wrzask
przykuwa naszą uwagę, nie od dzisiaj wiemy, że nie wstyd
śmierdzieć, pewne fazy istnienia są, owszem,
trudne, ale jakiż biszkopt nie poddałby się
pokrojeniu, by stać się w końcu tortem? Wspaniałości
czekające nas tuż po zdmuchnięciu świeczek
są tak przewidywalne, że aż słodkie, po pocałunku
spodziewamy się uśnięć, usunięć, a są tylko wrzaski.

Warszawa, 30.5.12
Author's log
26-12-09 03:18
[Impresje papieskie] Szczególnie denerwujący jest ten moment przed wieczerzą wigilijną, kiedy niby wszystko już gotowe, ale jeszcze trzy garnki stoją na gazie i coś tam się w nich bombli, a mama w każdej chwili grozi eksplozją. Wczoraj jakoś nie mogłem sobie znaleźć miejsca, a to właziłem po schodach na górę, gdzie leciała nudna audycja o psach, albo schodziłem do dużego pokoju, gdzie z kolei grasował tato z aparatem. W pewnym momencie podszedłem do szafki z książkami, ale uwagę...
more >>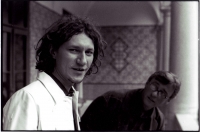 Adam Wiedemann
fot. Zbigniew Bielawka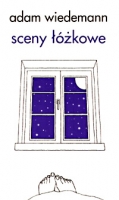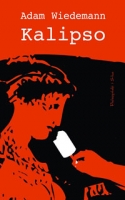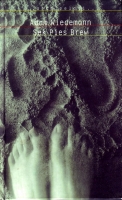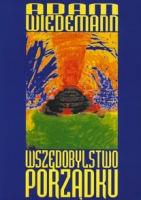 Hosted by

Fundacja Literatury w Internecie